It all started when the
buffalo hunter's
granddaughter let him hold the gun that killed the
white buffalo
. The sacred buffalo was killed 136 years ago just 15 miles from our Texas home. From that day, had the bug - it was on his
bucket
list before we knew about
bucket
lists. He had to have one of those guns - a
Sharps
-
a really long heavy gun that shoots a big bullet
. Then the sharps started showing up in movies like
True Grit
and
Dances with Wolves
and
Toombstone
and
Quigley Down Under
(which we have watched more times that I can count).

In the movie, Matthew Quigley answers a hired gun advertisement in Austrailia and of course brings his big gun. Now Quigley, Tom Selleck, can shoot the thing and hit a
bucket
900 yards away (I think that's half a mile) not just once but everytime. He was incredible. And "Crazy Cora" was his mostly unwelcome sidekick. She called him "Roy".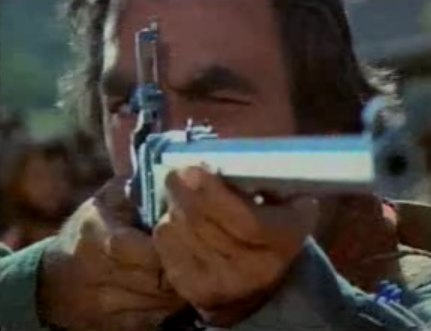 My wannabe buffalo hunter found his sharps rifle at a gun show in Texas before he made it to the C. Sharps Arms Company in Big Timber Montana, where the gun is made.
Now, fast forward to last weekend, when we went to the Quigley Rifle Match in Forsyth, Montana.
We brought the gun, lots of bullets, and all the movie lines we could remember.
The rifle match was started by a couple of ranchers who came up with the idea for the Quigley match after they watched the movie. The ranch owner of the ranch where the match was held, had moved to Montana as a 17 year old when his dad bought the ranch in 1940. He says it was still open range - land without fences. Wow.
And get this, he moved there from Sweetwater, Texas!
Small world!
Here's me, Cora, practicing with the spotting scope
before we headed for the firing line.
And there's Roy in Montana high skies totin' his 20 pound gun.
His first station was the buffalo
And here's the target, magnified to the max
He says it was so far away that is just looked like a black blob, not a buffalo
He had practiced with the gun only a few times,
but still hit the target 3 out of 8 times.
Way to go Roy!
The 6th target station he shot, was in 40 mph wind,
standing without a rest, shooting a target that was shaped like a bucket.
But not this bucket!
It's just a table decoration.
It was beautiful country and there must be a lot of lead in those hills.
There's the target far, far away!
There were 635 shooters at the match-
Quigleys, Coras, and Kids.
And here's the one that got away
What did you say, Roy?

One more thing on your bucket list?
A real buffalo?

Are you crazy?